Gig Journal
Chai Restaurant. North Andover, MA. November 7, 2003
After my wife, Mal, and I finished loading the car at the end of the gig, and settled in for the drive home, she observed, "We were treated like royalty!" I agreed.
I had gotten this gig through a guitarist, Jared, who had heard me at Michael Timothy's. I remember chatting with Jared after the Michael Timothy's gig. He said that he had listened to Joe Pass and that he liked the my walking bass. Jared called me in late October and told me about the Chai Restaurant, saying that he had played there a few times, and that the manager, Scott, wanted to have more music there. Jared said the restaurant was fairly new and that Scott and the owner, Chai, were very nice and were trying to build up the business. So I called Scott and booked two Friday nights in November.
When we arrived, Scott met us at the door and showed me where to set up, in a small open space near the far wall. To my immediate left there was a booth, and diagonally in front of me, the main dining room. Directly in front of me was the Sushi bar. To my right was a small table, in a hall with the wait stations, and beyond that the front dining room. The table was a perfect place for Mal to sit. Not only was she near the "stage," but during the evening she was able to chat with the waiters and waitresses, and with Scott. She even gave one of the waitresses a quick Reiki treatment.
It was an unusual set-up, but I did a quick sound check and I thought the sound would disperse pretty well.
When I had booked the gig, Scott had agreed to provide a meal for me and Mal. After I set up and Mal settled in at the little table, Scott brought over a menu and said we could order anything we wanted. The menu had an excellent variety of Thai and Japanese food. We ordered Pad Thai with shrimp and some vegetarian rolls as an appetizer. The food was fantastic.
As soon as I started my first set, some customers came in. In that set I played the most recognizable tunes in my repertoire, including "A Kiss To Build a Dream On," "Satin Doll," and "Girl From Ipanema." I find that once people recognize a melody or two, they accept the music and after that I can do some jazzier tunes.
The room filled up quickly. After a while, Scott walked to the back of the dining room to check the volume, and he said it was a little soft, so I turned up. He checked it again and said it was fine. Later, when the people in the booth next to me were leaving, Scott asked them if the volume of the music had been OK, and they said, yes, they were able to talk and to enjoy the music. It's always a challenge to fill the room with music without being overbearing.
After my first set, the owner, Chai, came out from the kitchen and introduced himself to me and to Mal. We thanked him for the food and told him how much we had enjoyed it. It was clear that he takes great pleasure in knowing that his food is appreciated. Chai said, "We are very happy to have you here. Thank you for playing such nice music." How refreshing it is to hear that! Chai was just beaming. It was clear that he took great pleasure in providing pleasure to his customers. He was enjoying my music, he was pleased that we enjoyed his food, and he was pleased that he, his staff, and his customers were enjoying good music.
During my second set, the birthday party in the front dining room sometimes got a little loud, and the level of conversation in the main dining room fluctuated a lot, so that made playing a bit hard. Also, I had waiters and waitresses walking past me all night, just a couple of feet in front of me. It was a little distracting, but I just tried to look at it as a kind of concentration exercise. The staff smiled each time they caught my eye, and said they were enjoying the music, so that made for a nice playing situation. One waiter jokingly said, "Play 'Take Five,' Dave Brubeck!" I wish I could!
As the night went on, the restaurant filled up, and it was clear that the customers were enjoying the food and the music. Scott hung out near the Sushi bar and chatted with the staff and the customers. Since I was so close to the Sushi bar, I was able to overhear. That was a bit distracting, but I did get hear a few customers comment that they enjoyed the food and the music.
I played short sets and took short breaks. After my third set, Scott had the Sushi chef prepare some tofu sushi for us. Excellent.
The tune of the night was "I Got It Bad." The groove was just right, and I played a good solo on it. I ended with an F9 chord, a fill on F Lydian Flat Seven, and then the Gmaj7 first inversion: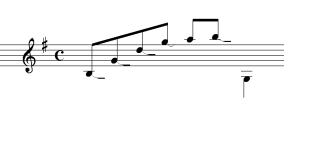 I slid the A to B with my first finger, and hit the low G with a hammer-on of my right hand (which looks cool, anyway). That got some applause.
On my last break, Scott said, "The owner wants to cooks something else for you, what would you like?" I hated to refuse such a generous offer, but we were so full! Chai came over to the little table. "Can I cook something?" We said we loved his food but just couldn't eat any more. I said, "How about just a little ginger ice cream." A minute later Chai was back with a huge dish of ginger ice cream, and two spoons. How often does a musican and his wife get served, on a gig, personally by the owner of the restaurant?
Treated like royaly, indeed!
At the end of the night, as I was packing up, Chai came up to me and thanked me again for playing. He said, "You and your wife travel together all the time?" (Meaning to gigs.) He smiled, "I like that. That is very good. My wife works with me here. I like that." Chai's son, about two years old, was at that point running through the restaurant, headed for the kitchen. The Chai royal family.
I'll be back at the Chai Restaurant on November 21. Looking forward to it. I think I'll fast until then, and work up an appetite!
Last Update: 11/9/2003