Gig Journal
Wildcat Inn, Jackson, NH. January 29, 2005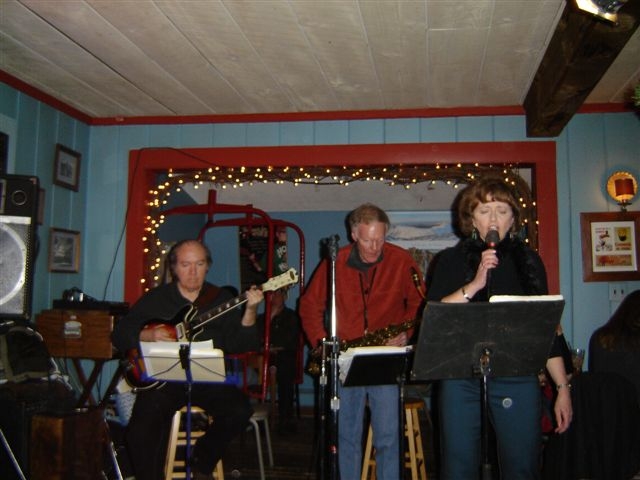 (Click to enlarge)
Mike Scott, saxophone, Mary Mitchell, vocals.
Mike and I have been playing gigs together for about 30 years. In the past few years we've done a few gigs with Mary. Both Mike and Mary have weekend places near Jackson, and when I go up to visit, we often jam, sometimes just Mike and I, sometimes with Mary. We both really enjoy her singing. We were glad to have a chance to play the Wildcat, having listened to music there for many years.
It was a long gig. 4 to 6 Apres-ski, then 8:30 to midnight. Tiring, but fun.
We arrived about 3:15pm so I'd have time to get us set up in the PA, but as it turned out, that wasn't enough time. The PA mixer and amp were stuck in a dark, cramped corner. I couldn't see into the back of the rig to find the output jacks for the speakers. I carry a flashlight in my gig bag, but, as luck would have it, the batteries were dead. We finally got a flashlight from the bartender. The Peavy speakers had two jacks in the back (I guessed that one was a parallel pass-through), and the power amp had four jacks -- I couldn't see labels on them. I tried most of the combinations, but none worked. About 4pm Ross, Mary's husband, showed up and tried a combination I had missed, and it worked. Ross was kind enough to help us with the sound through both the evening and the afternoon.
At some point during the first set, Ross noticed that we had neglected to plug in the speaker cable for the speaker at the far end of the room, stage left. We plugged that in, and it helped the sound a lot. We had a floor monitor, but we couldn't turn it up much, since Mary often forgets to turn off her mic before lowering it, causing feedback. I used a direct box (Behringer DI100) through the PA, but since I was sitting behind the speakers, and the monitor was low, I wasn't hearing myself very well. Mary had some trouble hearing me, also. When we return to the room in February, I'm going to set my Peavy Studio 112 up as another monitor, so the sound on stage will be better.
Our format was that, for each set, I would open with a solo guitar piece, then Mike would join me for a duo, then Mary joined us. That gave me a chance to do some single-line soloing. I chose not to do any in trio setting, because once I stop comping the sound thins out to much. In the duo setting, Mike played guide-tone lines behind my solos, and that kept the balance.
I caused one real train wreck. I was reading the changes to "Am I Blue?" -- a tune I'm not familiar with -- and I lost my place, I was trying to read the lyrics to find my place and at the same time to read the chords, but the lighting was bad, and I never did recover. Mary gave me a few, shall we say, inquisitive looks, but when the disaster came to an end, we all had a laugh and all was forgiven (I hope).
The crowd was noisy, especially during the afternoon, when they were still pumped after skiing. But they were appreciative, and we got quite a bit of applause.
Mary does a particularly nice job on ballads. My favorites of the night were "My Funny Valentine" and "The Nearness of You." One of the better up-tempo tunes was "Feel Like Makin' Love."
Mike and I have our favorite duo pieces. "No Greater Love" always goes well. But my favorite duo pieces of the night were "Mercy, Mercy" and "Watermelon Man." Oddly enough, just after we finished "Watermelon Man," a guy walked up with a scrap of paper and read off a short list of requests. The first tune on his list? "Watermelon Man." We informed him that we had just finished playing it, and he said, "Oh. That's what I thought."
We do it again in February. I'm looking forward to it. I'll make sure to look the music over ahead of time. Especially "Am I Blue?"